About us
Specialities
Doctors
Insurance
Map
Feedback
Description
Z O E Dental Clinic is one of the state of the art clinics in Dubai. It provides services related to dentistry like Prosthodontist, Orthodontist, Endodontist, and Dentist. We have a world class staff and highly qualified and experienced dentist to help you with the best dental treatments at quite affordable rates. ZOE Dental Clinic is located in the Deira region. It is open all days from Saturday to Thursday.
Method of payment:
Cash / Card
Address
Office 216, Block B, Business village,
Port Saeed Clock Tower Roundabout,
Deira, Dubai
Photos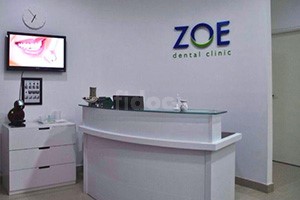 Specialities available at this venue
Dentist
A dentist is a doctor who specializes in prevention, diagnosis and treatment of disease, injury, and malformations of teeth, jaw and mouth.
Endodontist
Endodontists are specialized to treat dental problems with endodontic therapy. It involves the tooth root, dental pulp and surrounding tissues.
Orthodontist
Orthodontics is a speciality field of dentistry. An orthodontist deals with diagnosis, prevention and correction of malpositioned teeth and the jaws.
Prosthodontist
Prosthodontists are experts in restoration of teeth. Prosthodontics is a branch of dentistry which involves aesthetic restoration of teeth.
Kameron
I started having quite a few pain in my teeth n so I came to this clinic. The Doctor counseled me to root canal treatment. Initially, I became very scared however she did my remedy so well and painlessly that each one my worry went off. I changed into very a lot relieved. I could say she is an excellent dentist and really skillful.
Luca
I was given dental bridges for a couple of missing teeth in each of my top and the lower jaws. Dr. and her team handled me so well that I am able to bite the hardest of food and sense so happy that I bless them all in favor of such a high-quality job brought with utmost care and compassion.
Deacon
I visited this clinic last week for my dental fillings as I live close to this clinic, I am glad I did, as the doctor made me feel very comfortable & I was at ease throughout. Really satisfied with the her service.
Find Doctors and Make Appointments Online
Managing your healthcare is easier than ever before with Fidoc. Just search for a doctor in your insurance network, see available times, and book an appointment on the spot! You can read real doctor review from other patients, see the doctor's background and education, view photos of the office, and more. It's simple, secure, and free!
Related searches leading to this page