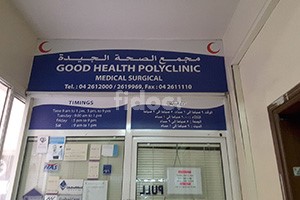 Good Health Polyclinic
Qusais
Consultation fees starting from AED 100/-
Multi-Speciality
General Practitioner (GP), General Surgeon
Call to Book Appointment
Please mention Fidoc when you call
Note: Please confirm with the medical center if your insurance plan is covered. Prices are indicative and may vary on occasion.
About us
Specialities
Doctors
Insurance
Map
Feedback
Description
Good Health Polyclinic is a popular clinic in Quasis. We have trained and experienced General Practitioner and General Surgeon. Good Health Polyclinic is hygienic and spacious. It has friendly staff and patient coordinators to make their experience worthwhile at the centre.
Method of payment:
Cash / Card
Address
Office 101, Same Building Of Chicken Tikka Restaurant,
Near Dubai Grand Hotel, Damascus Street,
Qusais, Dubai
Timings
Sat - Thu
9:00 AM - 12:00 PM
6:00 PM - 9:00 PM
Fri
Photos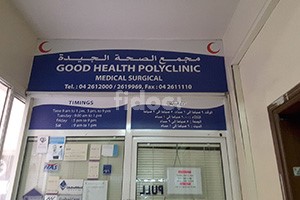 Specialities available at this venue
General Practitioner (GP)
A general practitioner is a doctor who treats most minor and chronic illnesses and then refers those with serious conditions to a hospital.
General Surgeon
General Surgery is a speciality that deals mostly with the abdomen. A surgeon trained and qualified to provide surgical care to the patient.
Tasmeer
HI , This phone no. doesn't exist . You need to call 042612000
Find Doctors and Make Appointments Online
Managing your healthcare is easier than ever before with Fidoc. Just search for a doctor in your insurance network, see available times, and book an appointment on the spot! You can read real doctor review from other patients, see the doctor's background and education, view photos of the office, and more. It's simple, secure, and free!
Related searches leading to this page