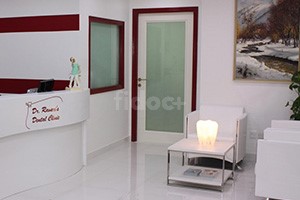 Dr. Ravari's Dental Clinic
Deira
Multi-Speciality
Dentist, Orthodontist & more
Call to Book Appointment
Please mention Fidoc when you call
Note: Please confirm with the medical center if your insurance plan is covered. Prices are indicative and may vary on occasion.
About us
Specialities
Doctors
Insurance
Map
Feedback
Description
Dr. Ravaris dental clinic and implant center is located in the heart of Dubai. We provide with cosmetic and restorative dentistry in a warm and relaxing spa like environment. We provide the latest dental technology to treat you with world class dental care make your visit as comfortable as possible. Dr. Ravaris dental clinic is devoted to give you quality dental services that you deserve.
Method of payment:
Cash / Card
Address
Office 104, M Floor, Al Aman House,
Port Saeed,
Deira, Dubai
Photos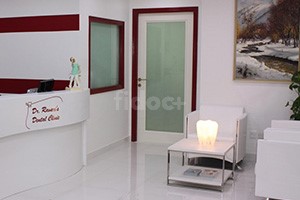 Specialities available at this venue
Dentist
A dentist is a doctor who specializes in prevention, diagnosis and treatment of disease, injury, and malformations of teeth, jaw and mouth.
Orthodontist
Orthodontics is a speciality field of dentistry. An orthodontist deals with diagnosis, prevention and correction of malpositioned teeth and the jaws.
Periodontist
Periodontics is a branch of dentistry that focuses on diseases of the supporting structures of the teeth including the gums and alveolar bone.
Sat - Thu
09:00 AM - 10:00 PM
Call to Book Appointment
Please mention Fidoc when you call
Note: Please confirm with the medical center if your insurance plan is covered. Prices are indicative and may vary on occasion.
Callan
I visited this dental clinic for braces treatment. The remedy goes well. I was given several times name from reception approximately how my healing manner is going on. She is very friendly and cleared my doubts. I am happy with her treatment. Thanks, doctor.
Marianna
Well prepared clinic. Docs is friendly, hassle loose treatment.. they may be providing world-class treatment, in particular, She is very expert in the root canal and filling. Definitely, I would recommend the tooth-related issue. They provide the right appreciate for patients.
Kayleigh
The doctor is surely so kind. She makes me experience, that I am the most important person, who has come for treatment! This particular feeling will be felt, Whoever comes for treatment. She is so careful, ideal and too good, she in no way makes us feel that we are undergoing treatment, by her sheer deft, and stupendous skilled hands. The sanatorium is fully equipped, and the whole thing required is getting finished in a quicker pace.
Find Doctors and Make Appointments Online
Managing your healthcare is easier than ever before with Fidoc. Just search for a doctor in your insurance network, see available times, and book an appointment on the spot! You can read real doctor review from other patients, see the doctor's background and education, view photos of the office, and more. It's simple, secure, and free!
Related searches leading to this page