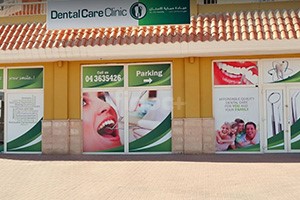 Dental Care Clinic
International City
Multi-Speciality
Dentist, Orthodontist & more
Call to Book Appointment
Please mention Fidoc when you call
Note: Please confirm with the medical center if your insurance plan is covered. Prices are indicative and may vary on occasion.
About us
Specialities
Doctors
Insurance
Map
Feedback
Description
Dental Care Clinic is located in the international city of Dubai. We provide with the latest dental facilities and technology to provide you with the world class dental care. Our dentists are complimented by highly qualified master technicians, dental nurses and hygienists. Dental Care Clinic give the best possible advice and solutions to your dental problems.
Method of payment:
Cash / Card
Address
Shop 2, D05 Zone, Central Business District,
Al Warsan First,
International City, Dubai
Timings
Sat - Thu
10:00 AM - 1:00 PM
5:00 PM - 10:00 PM
Fri
Photos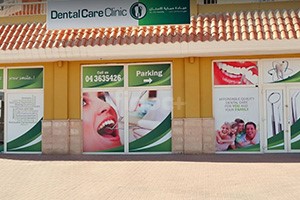 Specialities available at this venue
Dentist
A dentist is a doctor who specializes in prevention, diagnosis and treatment of disease, injury, and malformations of teeth, jaw and mouth.
Orthodontist
Orthodontics is a speciality field of dentistry. An orthodontist deals with diagnosis, prevention and correction of malpositioned teeth and the jaws.
Periodontist
Periodontics is a branch of dentistry that focuses on diseases of the supporting structures of the teeth including the gums and alveolar bone.
Sat - Thu
10:00 AM - 1:00 PM, 5:00 PM - 10:00 PM
Fri
Closed
Call to Book Appointment
Please mention Fidoc when you call
Note: Please confirm with the medical center if your insurance plan is covered. Prices are indicative and may vary on occasion.
Reva
I have been the usage of dental braces past 6 months for correcting misalignment within the tooth. Overall extremely glad about the whole dental process. The Doctor is superb in her way of treating and has shown excellent care for the entire duration. I am looking ahead to put off my braces inside the coming week. Thank you!
Gurdeep
Went to the dental clinic for my regular dental checkup. The health practitioner is patient-friendly. Nice to see such a health practitioner whom we can tell our issues and ask our doubts freely without any hesitation.
Charlotte
Earlier I had met a Dentist in Dubai for my tooth troubles. The Dr did no longer explain well and I got very confused. Then I came across this clinic they tested my tooth and explained the entire manner in detail and I turned into so very satisfied and went in advance with my treatment. I have got my implants and root canal performed and awaiting the enamel to be positioned in a few months.
Sushila
The Doctor makes you feel very comfortable. The care and situation shown by way of her whole team of Doctors and nurses are commendable. The clinic is extremely hygienic. The doctor is pleasant and helpful. Their consistent reminders and followup are worth mentioning. The pre and post dental surgical operation care is laudable. Getting an appointment with a health practitioner of his caliber is quite recommended.
Khalid Hamad
I have consistently received excellent care from Dental Care Clinic. Everyone was friendly and helpful. The dental assistant, as well as the doctor was very kind, explained everything clearly and answered all my questions. I feel my Cleaning by Dr. Rajula was very good and i will definitely come back and recommend you to all who are looking for a dentist.
Wafir
Was a good experience
Jasvinder Kaur
Dental treatment was always a horrible experience for me but at Dental care clinic Dr. Rajula did it so patiently and with so much love and care that it was an amazing experience . I will recommend Dental care clinic ( Dr Rajula ) for everyone for any type of dental treatment. I'm grateful to Dr. Rajula. jasvinder
Find Doctors and Make Appointments Online
Managing your healthcare is easier than ever before with Fidoc. Just search for a doctor in your insurance network, see available times, and book an appointment on the spot! You can read real doctor review from other patients, see the doctor's background and education, view photos of the office, and more. It's simple, secure, and free!
Related searches leading to this page