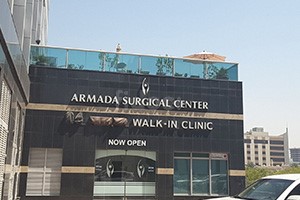 Armada Surgical Center
Jumeirah Lake Towers (JLT)
Consultation fees starting from AED 300/-
Multi-Speciality
Dentist, Dermatologist & more
Call to Book Appointment
Please mention Fidoc when you call
Note: Please confirm with the medical center if your insurance plan is covered. Prices are indicative and may vary on occasion.
About us
Specialities
Doctors
Insurance
Map
Feedback
Description
Armada Surgical Center offers the best services. We cover most aspects of healthcare ranging from General Practice to General Surgery. Our doctors are fully qualified in their chosen speciality field. Our doctors provide professional and friendly care to all their patients. We even offer exciting healthcare packages for patients to choose from. We make use of the modern technologies of all times to deliver best quality results to all our patients. Our clients have always supported us and our services. We never deliver an unsatisfying service.
Method of payment:
Cash / Card
Address
Ground Floor, Armada Tower 2,
Sheikh Zayed Road,
Jumeirah Lake Towers (JLT), Dubai
Photos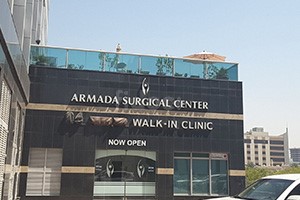 Specialities available at this venue
Dentist
A dentist is a doctor who specializes in prevention, diagnosis and treatment of disease, injury, and malformations of teeth, jaw and mouth.
Dermatologist
A dermatologist is a medical practitioner who specializes in the treatment of skin, nails & hair. In a wider sense it involves cosmetic treatments.
Dietitian
A dietitian is an expert in dietetics, human nutrition and the regulation of the diet of an individual based on their medical conditions and needs.
Ear-Nose-Throat (ENT) Specialist
An ENT Specialist is concerned with the diagnosis and treatment of disabilities relating to head and neck, including the ears, nose and throat.
General Practitioner (GP)
A general practitioner is a doctor who treats most minor and chronic illnesses and then refers those with serious conditions to a hospital.
General Surgeon
General Surgery is a speciality that deals mostly with the abdomen. A surgeon trained and qualified to provide surgical care to the patient.
Gynecologist-Obstetrician (OB-GYN)
OB-GYN is short for gynecologist-obstetricians who specialize in treating diseases of female reproductive system, and giving birth to babies.
Internal Medicine
Internal Medicine physicians are specialists who have the knowledge to prevent, diagnose, and treat adult disease across a wide spectrum.
Physiotherapist
A physiotherapist is a medical professional qualified to treat disease, injury or deformity by physical methods like massage and exercise.
Plastic Surgeon
Plastic surgery involves reconstructing or repairing parts of the body by transfer of tissue, either for the treatment of injury or cosmetic reasons.
Radiologist
A radiologist is a medical professional that uses medical imaging to diagnose and treat diseases seen within the body.
Anesthesiologist
An Anesthesiologist, also known as an Anesthetist, is a physician trained in preoperative care and practicing anesthesia by administration of anesthetics.
Find Doctors and Make Appointments Online
Managing your healthcare is easier than ever before with Fidoc. Just search for a doctor in your insurance network, see available times, and book an appointment on the spot! You can read real doctor review from other patients, see the doctor's background and education, view photos of the office, and more. It's simple, secure, and free!